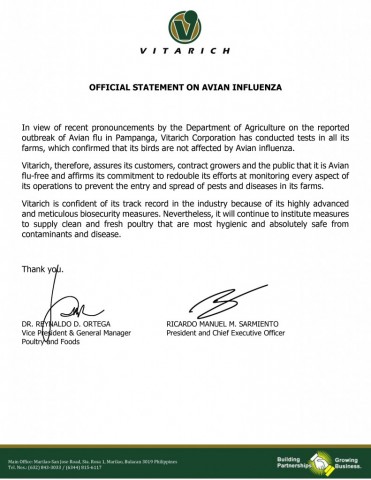 OFFICIAL STATEMENT ON AVIAN INFLUENZA
In view of recent pronouncements by the Department of Agriculture on the reported outbreak of Avian flu in Pampanga, Vitarich Corporation has conducted tests in all its farms, which confirmed that its birds are not affected by Avian influenza.
Vitarich, therefore, assures its customers, contract growers and the public that it is Avian flu-free and affirms its commitment to redouble its efforts at monitoring every aspect of its operations to prevent the entry and spread of pests and diseases in its farms.
Vitarich is confident of its track record in the industry because of its highly advanced and meticulous biosecurity measures. Nevertheless, it will continue to institute measures to supply clean and fresh poultry that are most hygienic and absolutely safe from contaminants and disease.
Thank you.
DR. REYNALDO D. ORTEGA                                                             RICARDO MANUEL M. SARMIENTO
Vice President & General Manager                                                     President and Chief Executive Officer